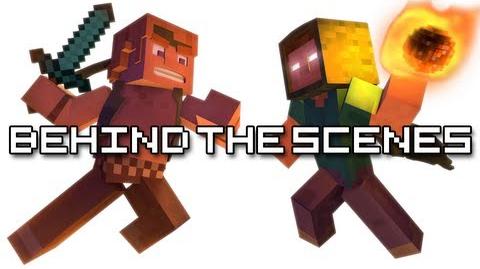 Take Back the Night
is a minecraft original video created by Captainsparklez along with Dig Build Live, Slamacowcreations, TryHardNinja, Doc Exx and Jerry Farley. This is a Sequel to 
Fallen Kingdom
, where the King's Son survived the Castle Attack and was raised by Villagers.
Storyline:
A day after the kingdom in Fallen Kingdom fell and the king ran away, a group of villagers visited the broken castle to try and rescue the survivors. In the process, they had found a small boy, who turned out to be the king's son. A skilled warrior villager trains the boy, taking him far from the village until he becomes a teenager and becomes skilled. There they find an ancient buried temple with heiroglyphs of the boy slaying Herobrine. When they come back to the village, a group of Zombie Pigmen are attacking the village. The boy successfully defeats the Pigmen, but his mentor is killed in the process. The boy also finds out that this attack was ordered by Herobrine, and gets very angry. Then he takes a horse and takes off to Herobrine's castle, where they fight. Herobrine is killed by the boy, and the boy runs off as the castle collapses behind him.
Ad blocker interference detected!
Wikia is a free-to-use site that makes money from advertising. We have a modified experience for viewers using ad blockers

Wikia is not accessible if you've made further modifications. Remove the custom ad blocker rule(s) and the page will load as expected.