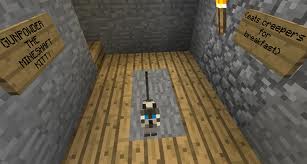 Carrie the Cat was found in Episode 37 of Modded Survival. She has a Siamese texture and has most likely passed away in Ultra Modded Survival.  It is not known if Carrie is alive or has passed away, due to glitches in the brown ant dimension on Jordan's "Ultra Modded Survival" series. She probably is dead. RIP. She was cloned in Hexxit, but then was lost in Ultra Modded Survival. 
Carrie was found at the bottom of Jerry's Tree as a wild ocelot. When CaptainSparklez tried to give her a fish she ran away and got stuck in his underground portal room. This made taming the ocelot a whole lot easier. However, this ocelot took lots of fish to tame, but CaptainSparklez eventually got her. He named her Carrie, following the "arry" pattern (Jerry, Gary, Larry).
Ad blocker interference detected!
Wikia is a free-to-use site that makes money from advertising. We have a modified experience for viewers using ad blockers

Wikia is not accessible if you've made further modifications. Remove the custom ad blocker rule(s) and the page will load as expected.